Our CDs
Camerata d'Amici recordings may be purchased online
by clicking on a shopping cart below.
---
O Holy Night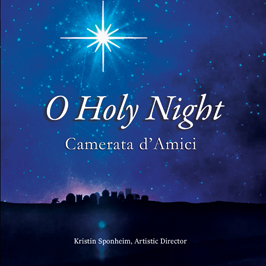 Our new CD features music from our 2011-2014 Christmas concerts.
CD Contents
1. What Child is This? – arr. Dale Warland
2. Psallite, unigenito – Michael Praetorius
3. Ecce, quod natura – Anonymous, 15th Century
4. Calm on the Listening Ear of Night – David Dickau
5. Taladh Chriosda – arr. Mark Sirett > Listen
6. Irish Lullaby for the Christ Child – Steven Sametz
7. Magnificat – Healey Willan
8. Ave Regina Caelorum – Isabella Leonarda
9. O My Dear Heart – Eleanor Daley
10. The Time of Snow – Bob Chilcott
11. O Nata Lux – Morten Lauridsen
12. Ring Out, Wild Bells – Ron Nelson > Listen
13. Noel – Todd Smith, arr. Brad Holmes
14. Say, Where is He Born? – Felix Mendelssohn
15. In the Bleak Midwinter – Nathan Jones
16. God Rest You Merry Gentlemen – Ralph Vaughan Williams
17. Hallelu – Stephen Paulus
18. O Holy Night – Adolphe Adam
19. In the Bleak Midwinter – Frances McCollin
20. Sing We Now of Christmas – arr. David York
21. Go Tell It On the Mountain – arr. Margaret Bonds
22. This Christmastide (Jessye's Carol) – Donald Fraser
---
How Can I Keep From Singing?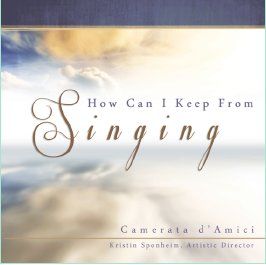 Released in December 2013, this CD features selections from Camerata d'Amici's 2010-2013 Midwinter and Spring Concerts.
Throughout life's journey, music provides an outlet for our spirit. Even during the darkest of times, it gives voice to our soul, connecting us all in a way that is meaningful and inspiring. As the Quaker hymn states, "My life flows on in endless song, above earth's lamentation. Through all the tumult and the strife, I hear the music ringing. It finds an echo in my soul - how can I keep from singing?"
CD Contents
1. Sure on This Shining Light – Morten Lauridsen
2. Esto les Digo – Kinley Lange
3. Famine Song – Vida; arr. Matthew Culloton
4. Every Night (When the Sun Goes Down) – Gwyneth Walker
5. MLK – U2, arr. Chilcott
6. The Pasture – Randall Thompson
7. Caro mio ben – Giuseppe Giordani
8. O Whistle and I'll Come to Ye – arr. Mack Wilberg
9. The Waking – Giselle Wyers
10. Nature, the Gentlest Mother – Aaron Copland
11. Stopping by Woods on Snowy Evening – Randall Thompson
12. Hanget Soi – Heikki Sarmanto, arr. Auvo Sarmanto > Listen
13. Blow, Blow Thou Winter Wind – George Shearing
14. Bring Me Little Water, Silvy – Huddie Ledbetter, arr. Moira Smiley
15. Swing Low, Sweet Chariot – arr. Harry T. Burleigh
16. How Can I Keep From Singing? – arr. Bradley Ellingboe > Listen
17. If Music be the Food of Love – David Dickau
18. Still I Rise – Rosephanye Powell
19. Choral Reflection on Amazing Grace – arr. Roger Ames
20. Joshua – Paul Caldwell & Sean Ivory
---
Christmas with the Camerata d'Amici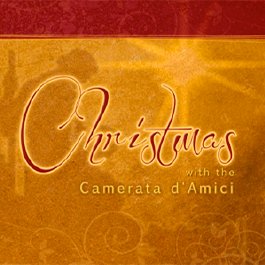 Released in 2011, this CD features music from our 2008-2010 Christmas Concerts.
Each selection included on this disc speaks to the spirit of the season, but does so through the unique voice of the time and tradition from which it comes. Christmas shines through in each, celebrated with voice and heart.
CD Contents
1. There is No Rose of Such Virtue – Stephen Caracciolo > Listen
2. Ava Maria – Tomás Luis de Victoria
3. The Lamb – John Tavener
4. The Hills are Bare at Bethlehem – arr. Ralph Johnson
5. Noél Ayisyen (A Haitian Noël) – Emile Desamours
6. Joseph Dearest, Joseph Mine – arr. Kirke Mechem
7. Jesus, Jesus Rest Your Head – arr. Arthur Warrell
8. Away in a Manger – arr. Paul Sjoland
9. I Wonder as I Wander – John Jacob Niles
10. I Wonder as I Wander (harp solo) – John Jacob Niles, arr. Hayes
11. Tomorrow Shall Be My Dancing Day – arr. John Rutter
12. Angelus ad Virginem – Anonymous, 13th Century
13. God Rest You Merry Gentlemen – arr. Ralph Vaughan Williams
14. Carol from an Irish Cabin – Dale Wood > Listen
15. Silent Night – arr. Malcolm Sargent
16. A Christmas Carol – Charles Ives
17. The First Nowell – arr. David Willcocks
18. O Come All Ye Faithful – arr. David Willcocks
19. This Christmastide – Donald Fraser