Established in 2006 under the direction of Kristin Sponheim, Camerata d'Amici is a 30-member auditioned choral ensemble, drawn from towns in Fairfield and Westchester counties. It also includes a chamber choir of twelve members. Camerata performs three concerts per season, in December, March, and May, as well as outreach concerts at local retirement communities.
The diversity of our repertoire is one of the things that makes Camerata d'Amici unique. The music we sing is exceptionally broad and varied, representing the voices of different eras, cultures and peoples. We aspire through this repertoire to connect with the hearts of our audience, to channel the art of the composer and poet, to communicate what it means to be human. As Beethoven wrote on the title page of his Missa Solemnis: "From the heart – may it return to the heart."
We welcome new members. Auditions take place by appointment.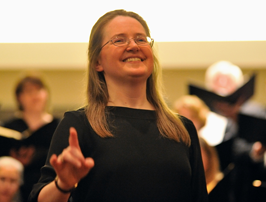 "In Camerata, singers come together to rehearse and perform exceptional music. it is a place of camaraderie and quality music that inspires singers and audience members alike."
– Kristin Sponheim, Artistic Director

Listen to Kristin Sponheim direct "There is No Rose"
Our Director
Kristin Sponheim is founder, artistic director, and conductor of the Camerata d'Amici. She has worked with singers of all ages in school and church settings, including nine years as director of music at St. Stephen's Episcopal Church in Ridgefield, Connecticut. She received her B.A. in music from St. Olaf College, studying music history and conducting, with further studies in conducting at Westminster Choir College and Eastman School of Music. Kristin also received an M.M.A. in organ performance from the Claremont Graduate School, studying under William Peterson, and a Ph.D. in music history at Yale University, with a dissertation on seventeenth-century choral music. Her current research interests are the performance practice techniques of Robert Shaw and the works of women composers.
Our Accompanist
A native of St. Petersburg, Russia, Margarita Nuller received her Bachelor's and Master's from the Conservatory there and emigrated here in 1990. She presented a debut recital at Weill Hall at Carnegie Hall in 2000 as a winner of the Artists International Auditions, and has performed extensively as a soloist and chamber musician in the New York metropolitan area and New England. Her CD of Russian music was released on the L'Art label in 2003. She has taught at the University of Hartford and the Mussorgsky College of Music (Russia), and is now on the faculty of the Kent School and maintains a private piano studio in New Fairfield, Connecticut.